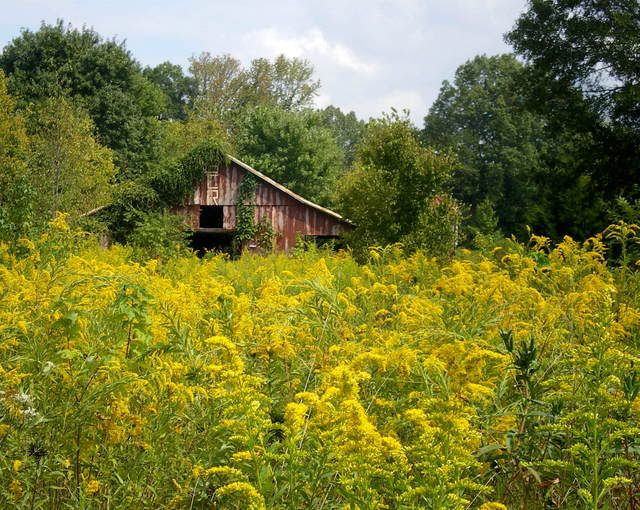 Thanks to those of you who wrote me for such a warm welcome back! I have a new job which takes a bit of time each week, but I hope to be blogging as regularly as possible. I enjoy sharing the Memphis area with you, and I'm glad that you enjoy seeing it, too!
Spring Creek Ranch Golf Club
, which was designed by Jack Nicklaus, was formerly a cattle ranch by the same name. Some of the recently-developed residential streets surrounding the club are named after the bulls that resided here when it was ranch land. This is one of the old barns remaining on the Spring Creek Ranch property, and I'm not sure that preserving the barn structures is on their long-term plan. I wanted to have a photo to serve as a record of this property's history, and I thought that the barn looked especially pretty with the goldenrod (and ragweed...achoo!) in full bloom.
And now for the favor! Do any of you have any photos of the artists' life-size horses that have been around the Germantown area since the Germantown Charity Horse Show? We came back from the MS State/Vanderbilt football game tonight and passed through Germantown, and they're gone! We were going to take photos of them on Sunday and Tuesday this week, when we had some extra time to visit each site, and share them here. SO disappointing! If any of you have photos (of the horses, of anything else in the Memphis area) that you'd like to share here, I'd be glad to post them and credit you for the photo. If you do, please leave a message here. Thanks!